---
AUSTRALIA : ABC - Northern Territory Shortwave Service, back on air
-
XYZ
Sep 13, 2016 06:24 UTC
No.1622
TNX! Rob Wagner @WRTH
https://www.facebook.com/groups/wrthgroup/

--------------------------------------------------------------
The ABC NORTHERN TERRITORY SHORTWAVE SERVICE is back on air 
this morning (Sept 12). Nothing was heard at 2145. But three 
outlets have been noted around 2325. So they may have been 
switched on after 2300. Noted are 4835 Alice Springs, 4910 
Tennant Creek and 5025 kHz Katherine. All are weak signals 
here, which is normal given that it is 9:25 am local now. 
4835 is the strongest here (as always). So, I suspect we 
will probably hear 2325 and 2485 kHz this evening.
--------------------------------------------------------------



-0625- remote radio in Australia (PERSEUS Server), (TNX! Neil Brisbane)
 4835kHz weak signal
 4910kHz weak signal
 5025kHz weak signal and QRM of UNID carrier
Back on air !!!
(H.Komatsubara)
---
Re: AUSTRALIA : ABC-NT
-
XYZ
Sep 13, 2016 09:25 UTC
No.1623
Note;

ABC
-0923-
 2325/2485kHz  good signal
 4835kHz       strong signal

... It is as usual !
---
AUSTRALIA : 4KZ
-
XYZ
Dec 20, 2017 12:51 UTC
No.2864
Radio 4KZ

 Frequency : 5055kHz
 Website : http://www.4kz.com.au/
 Facebook : https://www.facebook.com/nqradio4kz/

Thanks to Rob Wagner for this information !
 --  http://medxr.blogspot.jp/2017/12/4kz-fires-up.html


-1240-  very weak signal in my location (Akita/JAPAN)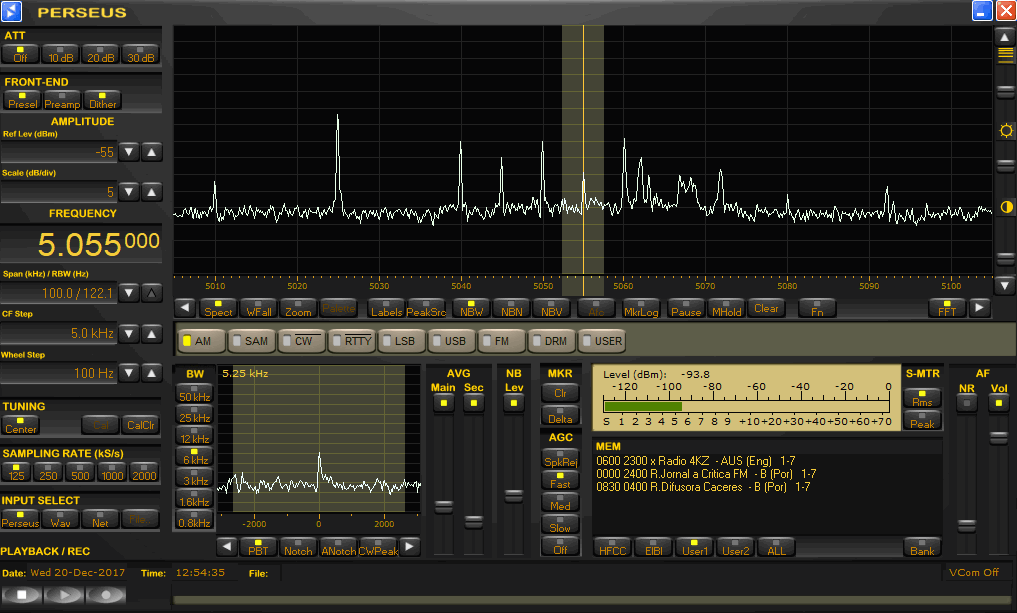 ---
Re: AUSTRALIA : 4KZ
-
Ron Howard
Dec 20, 2017 16:23 UTC
No.2866
AUSTRALIA. 5055, relay of 4KZ (presumed), 1428-1501, Dec 20.
Their first day on the air. Thanks to a timely alert by Rob Wagner!
Before about 1430 was mostly below threshold level, but by then able
to make out YL announcer; 1428-1458 seemed to be her chatting on
the phone; 1458 sounded like a commercial announcement; 1500
tentatively the news; poor and a lot of chatter on frequency in SSB,
in Spanish, which completely blocked 4KZ reception, as I was listening
in USB to get away from Beibu Bay Radio (China) QRM from 5050. On
a day with better conditions, believe this could be readable. My local
sunrise was at 1515 UT. Will be interesting to find out what power they
are running.

Rob's video of reception at http://goo.gl/8RZ6N4  

Ron, listening at Asilomar State Beach (near Monterey), Calif.

---
Re: Email from Radio 4KZ (Australia) on 5055 kHz.
-
Ron Howard
Dec 21, 2017 00:25 UTC
No.2868

Holiday Greetings from California!

Received the following email from Al Kirton <Al@nqradio.com.au>,
for a reception report sent directly to Al Kirton <al@4kz.com.au>.

We will have even better reception once he is at full power!!

Ron

"Thank you for your report.

We are only licenced for 1.2 kW but only running 500 w at the moment
due to a faulty RF board. When this is repaired we will go to our full power.

I will send you our second shortwave QSL card.

Sincerely

Al Kirton
Radio 4KZ
WWW.NQRADIO.COM.AU "
---
Re: Email from Radio 4KZ (Australia) on 5055 kHz
-
XYZ
Dec 21, 2017 00:38 UTC
No.2869
Ron-san, I appreciate the wonderful information !! ARIGATOUGOZAIMASU !!

http://www.nqradio.com.au/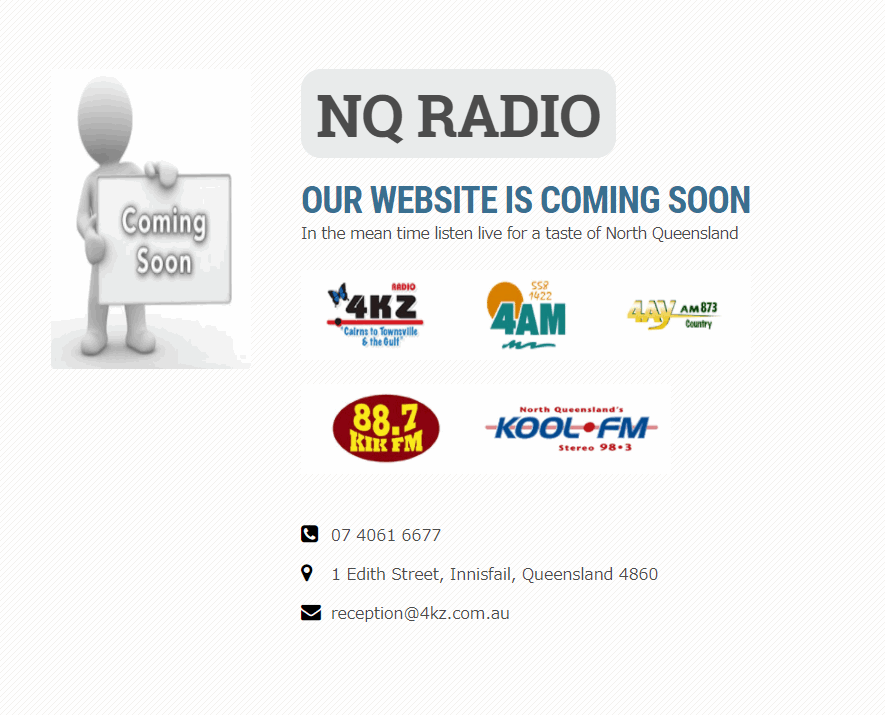 ---
Re: AUSTRALIA : 5045kHz Unique Radio
-
XYZ
Jan 07, 2019 13:30 UTC
No.3641
Thanks MAUNO @FB !
https://www.facebook.com/groups/wrthgroup/permalink/10156910204103698/

Website   : https://www.uniqueradio.biz/
Frequency : 5045kHz (January 7th 2019 ~)